Introduction
X-Poker is a new mobile apps just released recently in late 2020. It was created by Malaysia organization, FunnyGames, which has a place with the biggest Dutch Media holding company. X-Poker use cutting edge technology to ensure players from all over the world can compete on a fair and secure platform. We will talk more on their traffic, blind range, apps feature and user interface. It is super easy to download X-Poker. Just go to apps store/google store and search X-Poker to install. After registering your account, you can insert club ID to join us and start playing. Contact us for club ID. https://asiapokerunited.com/contact-us/
X-Poker Game and Stakes
✔️ Texas Holdem
✔️ Texas Holdem with Ante
✔️ PLO 4, 5, 6
✔️ OFC
✔️ MTT
X-Poker provide various game format as shown above from microstakes to high stakes. As X-Poker is a club-based apps, especially at the beginning of their journey, it offers incredibly soft game as the traffic are not reg-infested. You will find many recreational player inside. Some table will have VPIP restrictions as well.
User Interface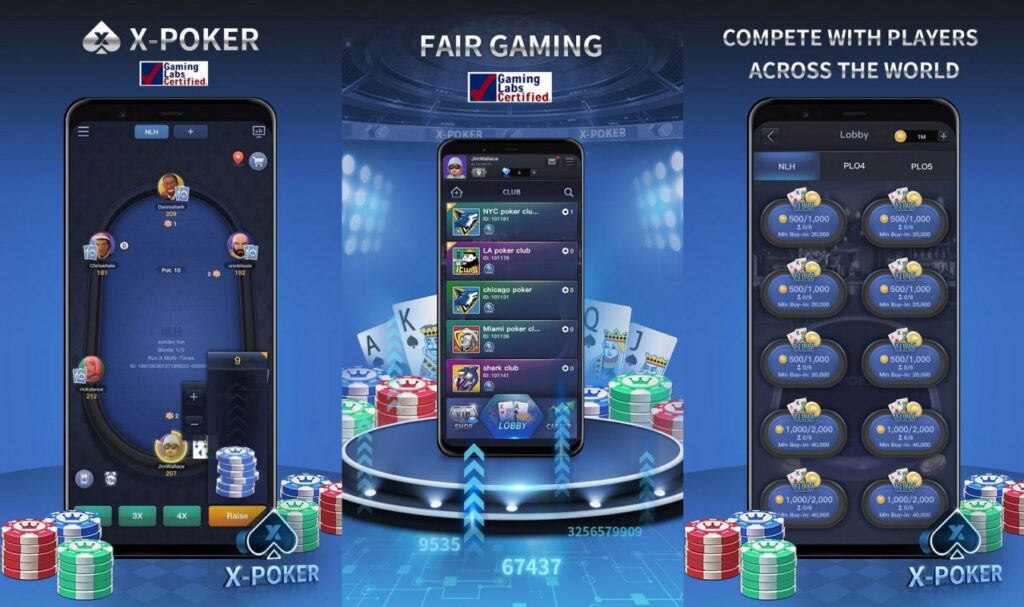 If you have tried apps like PokerBros, then X-Poker will be a very familiar type of poker apps with some unique features. It is super easy to get used to the apps as the apps is easy to navigate and it works nicely on the apps.
Traffic
Although X-Poker is a relatively new apps, however, their traffic is quite good. You will surely find several table of your preferred blinds. Normally, NLH will have the most number of table followed by PLO5 then OFC.
How to Join ?
After you have downloaded X-Poker, open up the lobby and click on the search button then enter Club ID and referral ID. Contact us for Club ID. https://asiapokerunited.com/contact-us/
Deposit Method
Our company encourage all money transactions in X-Poker by using USDT or Bitcoin or bank transfer Maybank.  No fees are charged for deposit and withdrawal.